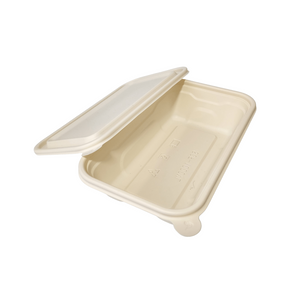 Product Code: SCF1000
Dimension: 1000ml  (240mm x 140mm x 57mm)
Our latest addition to our range of eco-friendly food containers are made out of natural cornstarch and PP composites that provides unparalleled practicality and convenience for food delivery and take-away. Made from renewable cornstarch, these containers are biodegradable, compostable, and are the perfect alternative to traditional plastic containers. Comes in various shapes and sizes for you to choose from.
Strong and durable, making them perfect for both hot and cold foods.
Microwave and freezer safe, making them a versatile choice for any food service operation.
Water & oil-resistant, making them the multi-purpose to hold any kind of food.
Leak-resistant and have a secure snap covers, making sure the food gets to your customers safely.